3976 Magnolia Drive, Vineland, Ontario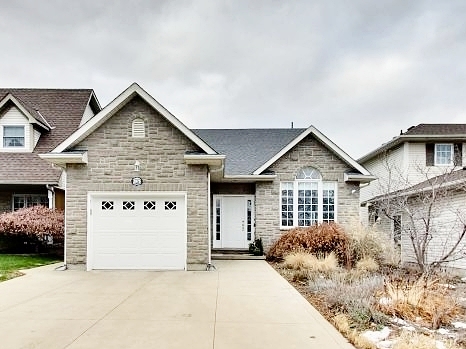 Listed At $479,900  |  3 Bds 2 Bths  |  1278 Sq Ft  |  Attached 1 Car Garage W/ Parking
Why bother traveling to Europe when you can enjoy living close to vineyards and orchards every day?
Not only is this home in stunning condition, but you'll be surrounded by the look and feel of Europe without all the travel hassles. A new roof in 2015, concrete patio and driveway in 2012, and fresh painting throughout only make this home more irresistible. And speaking of travel, this home is located less than one hour from the Buffalo airport, making for a cheaper and more convenient alternative to Toronto.
With 11 vineyards in town and four more in the surrounding area, you'll be hard-pressed to not feel as if you've stepped into another world. 3976 Magnolia Drive is located in the exclusive and highly sought after Vineland, Ontario and it certainly lives up to its name. The town is well-known for its numerous vineyards and lush orchards. In addition to wine-tasting, you can have easy access to local-grown fruit like cherries, apricots, and peaches picked at the perfect time and ideal for your favourite recipes.
And for those who aren't into wine, you'll discover four distilleries nearby. While some of these businesses offer a wide selection of their signature whiskeys or beers, others have a more eclectic selection of vodka, gin, and even absinthe. All offer tours for when guests arrive out of town or shopping for celebrating that special occasion.
Living in Vineland, you'll enjoy a moderate climate with mild winters due to its proximity to Lake Ontario, Lake Erie, Jordan Harbour, and Niagara Escarpment. This combination of factors is also great for those who love being outdoors and enjoying a round of golf every now and then. Golf enthusiasts can choose from the Twenty Valley Golf & Country Club or the other 15 courses located within 30 minutes.
An event that's also popular to the area is the annual Ball's Falls Thanksgiving Festival held every October. The festival originated back in 1975 and was intended to raise funds for conservation and environmental programs. The same cause holds true today, and attendees can take delight in over 150 artisans, food vendors, demonstrators, and entertainers over the course of four days. Attendees can also shop at the Farmer's Market for local produce and wines.
If you ever wanted to live in the heart of Niagara wine country, then 3976 Magnolia Drive is just for you.
Never Park on the Street Again with a Long Driveway & Attached Garage
You and your family will never have to worry about parking on the street again as this home features a long driveway and attached garage. You'll have ample parking space for extended family coming for an extended visit or guests arriving for a private dinner party.
The long walkway alongside the garage leads up to the private porch. From April to October, that walk is highlighted by a professionally eco-landscaped garden featuring perennials, ornamental grasses, and a magnolia tree. And if you're lucky, you just might catch sight of a butterfly or two!
You'll immediately notice how the front door is accented with sidelight windows. The large window living room window is also visible to the right and you will instantly see how perfect it is for decorating, especially around the holidays.
Open Layout Living Room and Dining Area Ideal for Entertaining Guests
As you enter the home, you'll instantly see the natural light pouring in from that large living room window in additional to vaulted ceilings and decorative lighting. You'll find yourself wanting to place the most comfortable furniture possible in that space just so that you can relax and enjoy the amazing sunlight that streams in during the morning hours.
On the other side of the living room, you can seat family and guests in the formal dining area. The entire 17' x 23' space is enhanced with hardwood flooring. The dining area also has its own large window to enhance any meal or add ambience to a more intimate setting.
Gorgeous Granite Kitchen Countertops & Decorative Cabinetry
The beautifully updated kitchen has abundant storage and workspace for the cook in the family. The granite countertops perfectly accent the décor and are adequately spaced for even the most challenging baking project.
Decorative cabinetry blends right in with the countertops and features uncovered shelving along with trimming that adds a unique dimension and class to the kitchen. You'll also find a larger-than-usual space that can be used as a breakfast nook or the long bar can easily seat family or guests who want to eat or hang out with you while you cook.
Just a Few Quick Steps Up to All 3 Bedrooms
Can't fight sleep anymore?
All you need to do is take a few quick steps up the small staircase to reach any of the three bedrooms. The spacious 15' x 11' master bedroom allows for adding in your own personal touch and décor.
Additional bedrooms offer adequate space for kids or a home office. The main level bathroom attaches to the master bedroom and is also accessible by the other bedrooms for ultimate convenience.
Large Recreation Room with Walkout to the Backyard
The large 29' x 19' recreation room on the lower level offers abundant space for just about any option you can think of. With a fireplace, full bathroom, a combined hardwood floor and carpeting, this space can easily be transformed into a living space for an older teen or an extended-stay house guest.
It has direct access to the backyard and can also be used as an entertainment room or a comfortable workspace for telecommuting days. The area also connects to a 29' x 21' unfinished space with unlimited potential.
A Touch of Europe in an Exclusive Area Surrounded by Vineyards
If you never thought you'd find the opportunity to live in the exclusive Vineland area, you are in luck! Not only is this home available for sale, but it's in impeccable condition, and it's close to all the amenities the area has to offer.
Priced at $479,900, you can enjoy local wineries, distilleries, and orchards as if you were in Europe without having to travel any further than your own town.
The seller is represented by Neil O'Donnell of Three Pillars Realty, Inc. and can be contacted at 289-686-1661 or send us a message.