15 Book Road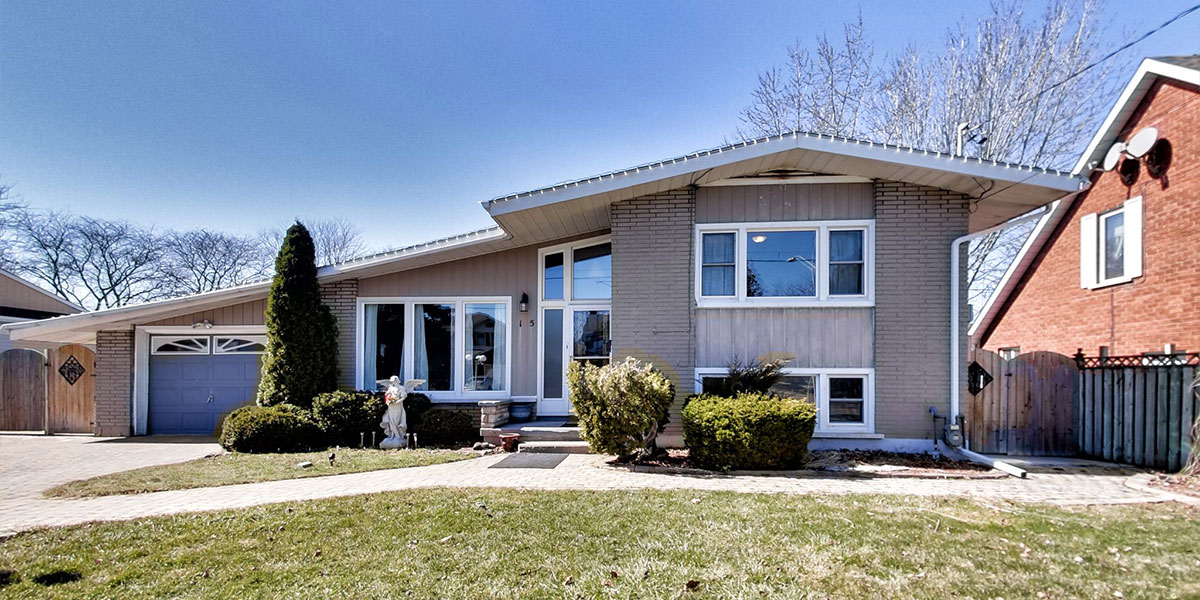 Listed At $600,000  |  3 Bds 2 Bths  |  1469 Sq Ft  |  Attached 1 Car Garage W/ Parking
The first thing you'll notice about this home is that it's unlike any other on its street. That's because it was originally the builder's home that he designed to live in himself. His unique touches are featured throughout to make it a one-of-a-kind home you won't find anywhere else.
But it's not just about the look and feel of the home; it's also in an excellent location. Tucked in nicely between Lake Ontario and Lake Erie, the area misses all the bad weather making it seem as if you're in the Promised Land. The town of Grimsby is self-proclaimed as the "best little town in Canada," and they do everything they can to keep that claim.
The Best Little Town in Canada
With a wide range of dining experiences along with heritage and cultural attractions, Grimsby has plenty of activities that attract visitors from both Canada and the United States. You can enjoy the local art gallery and museum that tells of the town's history as well as its featured exhibits and special events throughout the year.
And speaking of special events, every year just after Labour Day, you can visit the Grimsby Festival of Art. The festival showcases high caliber artists and artisans. With over 100 artists displaying their high-quality handcrafted artwork, you can enjoy their creativity or purchase a piece or two for the home.
In addition to the art festival, a multitude of annual events are featured in Grimsby. From Canada Day celebrations, Santa Claus Parade, New Year's Day celebration, among many others including the Happening at the Forty festival, a three day community event featuring local craft vendors, classic car show, live music and of course fireworks! And don't forget the Farmer's Market held from the end of May to the beginning of October where you can purchase fresh vegetables, fruits, honey, preserves, maple syrup, breads, meats, cheeses, and a variety of plants, flowers, and herbs.
Another great thing about this home is its proximity to the highway. You're only just a minute or two away, yet you never hear any noise from the traffic.
Did You Say You Love the Outdoors?
If you did, then you will more than love the opportunity to embrace the outdoors in Grimsby!
With it being near Lake Ontario and the picturesque Niagara Escarpment, you have the option to hike, swim, ice skate, fish, and more. Grimsby has abundant trails for you to choose from for all levels of hikers. The Waterfront Trail runs adjacent to Lake Ontario's shore and goes through historic Grimsby Beach. You also have the option to take the Forty Mile Creek Trail that takes you from the waterfront, through Grimsby's downtown area, and then to the base of the Niagara Escarpment.
The town also has many parks and conservation areas, like Beamer Falls, that offer lookout points for enjoying stunning panoramic views. Bring a picnic, take along your sports gear for a game of baseball, or just relax and get in some bird watching.
You'll also discover the Peach King Centre that provides for activities all year round. From two indoor ice rinks, racquetball courts, fitness centre, an outdoor ice rink and soccer field, you can stay active regardless of what the weather decides to do. And if you're a hockey lover, don't forget to check out the Champion Junior C hockey team, the Peach Kings, during the winter months.
An Open Concept with a Log Cabin Feel
For normal days or days where you want to stay in, you'll feel like you're in a cottage or log cabin. From the instant when you walk into the home, you'll notice the high-vaulted ceilings with unique wooden beams that offer warmth to the space.
Three large front windows pour a wonderful amount of natural light into the living room while also highlighting the new wooden floors that have been placed throughout. It's the ideal place to kick back with your favourite read in front of the fireplace or congregate for family movie night.
Brand New Gorgeous Kitchen with Large Island
The natural light from the front windows along with the unique wooden beams above accentuates the brand-new kitchen perfectly. The contrast between the wood and exquisite white cabinetry offers a classic and welcoming feel for both family and guests.
And there's no need for a dining room set as the large, natural wood-topped island comfortably seats five people. You'll also love the additional storage it offers as the kitchen-facing side has multiple drawers for kitchen gadgets and utensils.
Plenty of Room and Space to Complete the Main Level
Just a few steps up from the living room and kitchen area, you'll discover the master bedroom and an additional bedroom. Both share a full bath that features unique glass shower doors that open inward.
As you walk past the kitchen to the left, step down into the cozy family room and adjacent office. This area makes for an ideal space to work from home with peace and privacy. Or, on the weekends, hang out for family game night or a quiet evening discussing the events of the day.
The Ultimate Deck and Backyard Escape
Ever wonder what it would feel like if you could instantly jump into a hot tub when you've had a long day?
Your wondering is over!
An enclosed cedar room with a hot tub just beyond the family room awaits to greet you after a stressful day. You can also use this space as an exercise room or just for sitting to enjoy the natural light coming in from abundant windows.
And if you want to entertain guests, you'll have ample room to spread out on the deck outside. Sit on the covered patio and enjoy a meal outdoors or step out onto either of the two uncovered deck areas to catch some sun.
Finished Basement Area for Additional Storage and Space
For those guests or family members who require privacy, additional room is available on the lower level of the home. They'll be happy to discover a large 13' x 13' bedroom and abundant closet space along with a half bath for added convenience.
The lower level also contains a room for laundry as well as a folding area. The space can also be used for additional storage or extra pantry goods.
One-of-a-Kind Open Layout Home in an Excellent Location
If you're looking for a home unlike any other with an open layout and great entertainment opportunities, then 15 Book Road should be on your must-see list for viewing.
You'll enjoy easy access to the highway with plenty of activities in the town of Grimsby to enjoy nearby. The home has a log cabin feel with unique wooden beams highlighting the vaulted ceiling, an open kitchen with large island, and a gorgeous cedar room with hot tub. You can easily entertain indoors or out given the abundant space throughout the home as well as the large outside deck with both covered and uncovered areas.
Don't let this unique home in an ideal location pass you by!
For more information about our documented value driven approach you can request your very own copy by completing the "Contact Us" form below, by visiting www.threepillarsrealty.ca/our-book or by calling 289-686-1661 and asking for your very own copy of our book.